Advisory
Geo Strategy Partners consultants often become trusted advisors to our clients. It is our job to make sure executive decision-makers have the knowledge they need related to customers, competitors, and the market environment. It is our role to speak the truth in terms of market and competitive realities, and to provide tools for decision-making that leverage wisdom derived from the natural laws of competition. Sometimes it is our job to reveal your blind spots, to challenge your assumptions, to open your eyes to opportunities. We reveal market and competitive realities, and provide tools for good decision-making. We do not pretend to know how to run your business but we can help you make better business decisions and thereby exploit more sustainable opportunities and avoid misallocation of resources based on faulty data or assumptions. We are trusted advisors because we think about our clients' businesses as if they were our own.
Analysis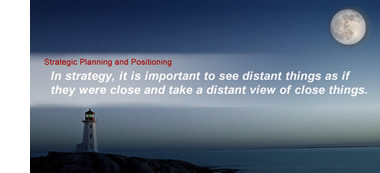 Good decisions turn on good data, but it requires expert analysis to turn information and intelligence into actionable insights. Our quantitative analysis capabilities range from voice of the customer data analytics, to market modeling, to competitive intelligence, to company valuation, to business scenario sensitivity analysis. However, it is our senior strategy consultants' ability to analyze the competitive dynamics of the market and to assess the internal strengths and weaknesses of our client's capabilities that enable our clients to develop winning strategies that are sustainable.
Competitive audit
Can you articulate your company's strategy in one breath? Can the receptionist? The mail room clerk? What is your corporate DNA? How scalable is your business? Can you reproduce your process and recreate your corporate culture in another country? What are your core competencies? Do members of your sales team describe your value proposition similarly? Are you capturing all the value you are creating? If you cannot answer these questions, strategically speaking you can't get there from here. Consider having our team complete a competitive audit and help you determine "where you are."
Consulting
Geo Strategy Partners consultants can work with your executive team on an ad hoc basis to address your marketing or strategy challenges. We can help you design processes that allow your team to conduct ongoing market research, analysis and strategy formulation. We can assist you with strategy implementation, and work with your project teams to ensure the path-to-market is executed according to plan.
Facilitation
Strategy is about leadership, communication, consensus, and implementing change. Geo Strategy Partners strategy consultants are experts at facilitating strategic decision making. We provide the creative stimulation, process discipline, and friendly push-back your executive and project teams require to unleash creativity, acknowledge external change, embrace change internally in response, and set a sound strategic course. We ensure your decision-making is reflective of market and competitive realities and based on sound strategic principles. Most importantly, our involvement produces a greater sense of investment and builds consensus among stakeholders.